AN INTERNAL SPRAY PIPE COATING solution in U.S.
Relining Group offers a full Spray In Place Pipelining solution for plumbers all around the United States. Our SIPP equipment is easy to use and it saves time, effort and money during all kinds of pipe repair projects. We also offer a quality training.
YOUR SPRAY IN PLACE PIPE RELINING EXPERT IN U.S.
At the U.S. market, we deliver reliable and lucrative spray pipe relining equipment and polyurea or polyurethane resins to our plumbing contractor clients. With our innovative pipe relining technology our partners can fix the pipe problems from the inside, without digging up or damaging the existing structures – which means, that they can get the job done faster and with less disruption than replacing old pipes.
If you are interested in offering your customers an easy, reliable and certified spray in line pipe repair services, we can help you. A full training is included to all plumber company partners, so that you can deliver pipe repair projects with high quality and safety.
We have created a range of specialty equipment to help you to succeed in your spray in place pipe relining business. We have an established distributor here, in U.S. that can offer a quality training and professional support. 
How Does Spray pipe relining WORK?
Relining Group's easy to use spray in place pipelining system helps you deliver pipe repair services with no digging and fuss
Insert CCTV  into the pipeline to inspect the current condition and clean pipes mechanically and rinse pipeline with water to flush out all dirt and impurities.
STEP 2
DRy pipe with blower
Dry pipeline with an air blower and then inspect it again to ensure it's thoroughly dry and there are no tears or punctures. Any punctures are patched and repaired before continuing.
Use equipment to spray coat pipe with ElastoFlake to achieve a minimum coating of 3 mm. When the coating is finished, inspect the pipeline again by CCTV and the results are automatically documented to ensure that the outcome perfect. The pipeline is ready for use after 20 min to 1 hour of drying
See how high-quality spray coating is done easily and efficiently
With Relining Group pipe coating solution you can save time, effort and money in pipe renovation projects
RELINING GROUP in North America
AN INNOVATIVE PIPE COATING SYSTEM PROVIDER IN US
Relining group has designed a range of spray lining solutions for inhouse sewer pipe repairs. The pipe coating systems are especially designed for our polyurethane and polyurea resins, that intelligently guides your pipe rehabilitation work step by step enabling the best spray lining quality on the market. Relining Group's polyurethane and polyurea coatings are elastic, smooth and durable, suitable for any sewer or drain pipe material, making them ideal for a wide range of drain and sewage sprayed-in-place pipe lining repair projects.
A SIPP SOLUTION FOR SMALL DIAMETER PIPE REHAB PROJECTS
Elasto Family is a full spray-in-place pipe rehabilitation solution for internal pipe coating. Elasto Family includes a DIBt certified polyurethane ElastoFlake resin and ElastoTec pipe coating equipment, available in two different sizes, ElastoTec M and ElastoTec L. ElastoFlake resin is your choice when you need an elastic, fast- curing and self-supporting coating material for Ø 50 – 200 mm sewer and drain pipes.
KEY BENEFITS
ElastoTec-M relining system is easy to move around
The handle and removable tanks make it effortless to carry
Material consumption data is easily downloadable from the system onto a USB stick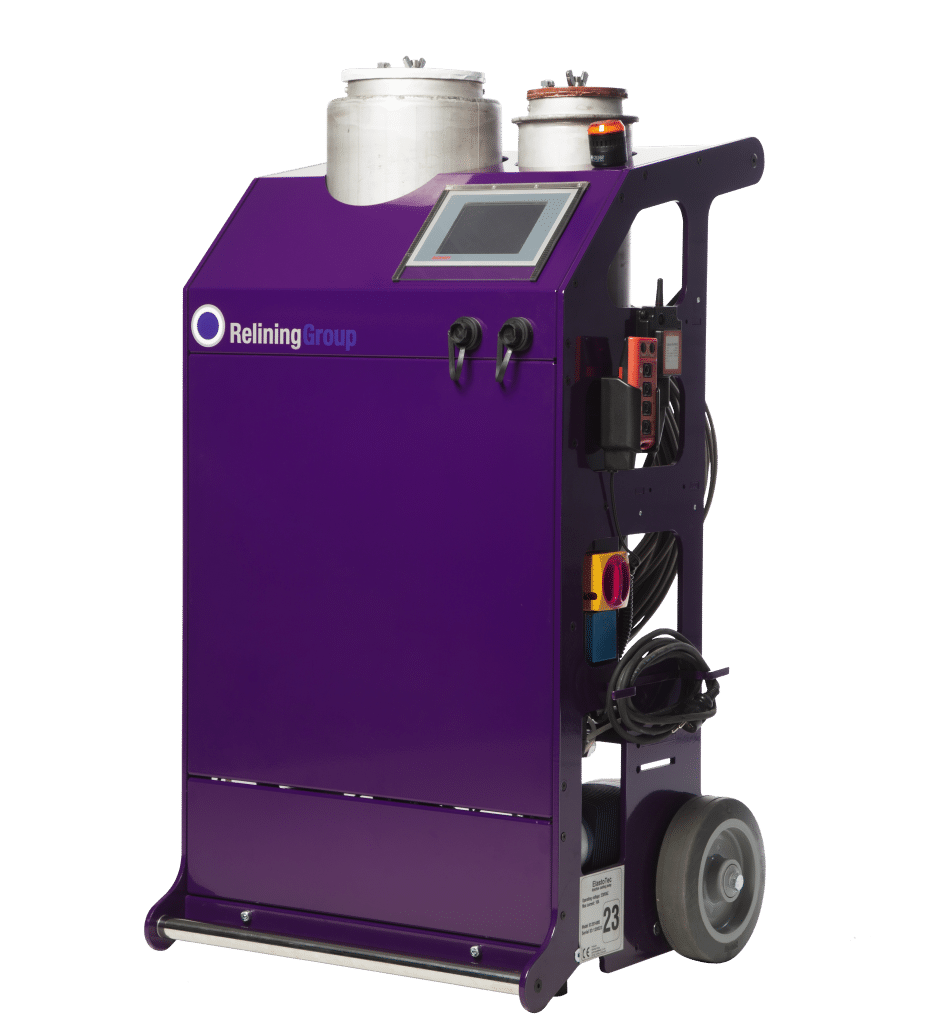 A BRUSH COATING SOLUTION FOR SMALL DIAMETER INTERNAL PIPE REPAIRS
Helpo Family is a full brush coating pipe rehabilitation solution for internal pipe coating. Helpo Family includes the HelpoFlake polyurea resin and a Relining S-system brush coating equipment. HelpoFlake is a preferable choice when a pipeline of Ø 50 -125 mm contains more than normal amounts of moisture. HelpoFlake is also highly resistant to pressure and chemicals, as well as temperature variations.
KEY BENEFITS
Low startup cost for entering into pipe rehabilitation world
Extremely easy to set up and use
Works with a coating resin that cures quickly but owns incredible physical properties making it a long lasting solution
Small Diameter pipe repair solution made easy for the sewer and drain pipes renovations
Relining Group SIPP solution is ideal for residental, public and commercial buildings
"Thanks to Relining coating solution we could finish the project before the summer holidays. Now, residents can enjoy their apartments…
Why Choose Relining GROUP
Benefits of using our spray pipe coating solutions
Interested in becoming certified user or distributor in north america?
Alabama, Alaska, Arizona,   Arkansas,  California,  Colorado,  Connecticut,  Delaware,  Florida,  Georgia,  Hawaii,  Idaho , Illinois,  Indiana,  Iowa,  Kansas,  Kentucky,  Louisiana,  Maine,  Maryland,   Massachusetts,  Michigan ,   Minnesota,  Mississippi,  Missouri,  Montana,  Nebraska,  Nevada,  New Hampshire,  New Jersey,  New Mexico,  New York,  North Carolina,  North Dakota,  Ohio,  Oklahoma,  Oregon,  Pennsylvania,  Rhode Island,  South Carolina,  South Dakota,  Tennessee,  Texas,  Utah,  Vermont,  Virginia,  Washington,  West Virginia,  Wisconsin,  Wyoming